After a short summer hiatus, we are back with the third edition of the ISCA Newsletter. With the growing stress and anxiety many of us are experiencing due to a range of global issues, this seems an opportune time to share some positive developments, which show how we as a community can come together. While it will be a while before we get to see each other again in person, we manage to find ways to keep connected and indeed use this time to become even more of a global, inclusive community. And who knows, some of these innovations may be here to stay.
One of the silver linings of the pandemic is that conferences have become more accessible. They now take place online, such as the inaugural edition of the European Conference of Conversation Analysis, which was held at the end of June. ECCA strongly underlines the potential of these virtual conferences, as it attracted over 200 EM/CA scholars from all over the world. During this time, in which we are discouraged from in-person socialising and travel, these online conferences provide an invaluable platform for sharing ideas and meeting friends and colleagues.
I'm also happy to announce that six new members have joined the ISCA Publications Committee since our last Newsletter and that we now have representation from every continent except for Antarctica. With a larger committee, we will also be able to focus on more tasks. In addition to the articles that make up part of the quarterly newsletter, we have a team working on podcasts, social media, and online resources. We are also developing new ideas such as an international online data session group, mentoring network, and a multilingual EM/CA terminology archive. With all these projects, we hope that ISCA will provide even better support and opportunities for its members.
Squib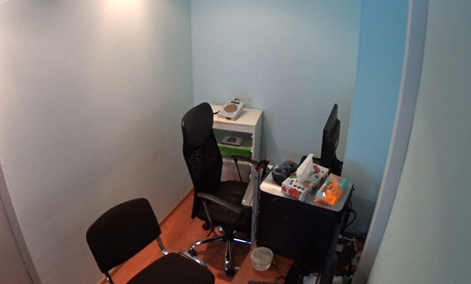 EM/CA has a long-standing interest in how science is done. Not just our own research, but how researchers construct theories, perform experiments, develop mathematical proofs, and generally accomplish science. In their squib, Nils Klowait and Maria Erofeeva, from the Moscow School of Social and Economic Sciences, discuss their ongoing collaboration with the Cognitive Research Laboratory in their project on why high-profile psychological research often fails to replicate. They video-recorded how EEG experiments were conducted and how participants acted during these experiments, focussing in particular on how the researchers managed to manipulate the participants' bodies. They reveal how objects suchas chairs and tables play a crucial role in managing these corporeal boundaries.
Read and comment on the full length squib: The Multimodal Accomplishment of Body Control in a Cognitive Laboratory.
Call for Protocols
To conduct EMCA research, we often need study protocols to demonstrate processes for recruiting participants, securing informed consent and collecting and storing data. While this is particularly relevant for medical EMCA research, obtaining approval from research ethics committees is also becoming conventional practice more generally in the humanities and social science. Led by Prof Ruth Parry from the University of Loughborough, the EMCA Wiki team is setting up a hub for written documents on procedures, processes and protocols. The intention is to share knowledge on designing and setting up successful CA studies.
If you have some materials and/or references you would like added to the wiki, please email admins[at]emcawiki.net.
Podcasts: State of Talk
Earlier this year, we began developing an ISCA podcast in which we talk to inspiring EM/CA scholars from around the world. After the usual start-up problems, we have produced a few episodes and are formally launching State of Talk. These follow different formats, such as classic interviews, but also discussions and analyses of short pieces of data. The podcast is run by Elliott Hoey, Emily Hofstetter, Holly Sansone, Sam Schirm, Saul Albert, and Jack Joyce.
We are very happy that for the kick-off episode Prof Rod Gardner from the University of Queensland was willing to talk to us about his discovery of CA and the emergency of the field in Australia. In the second episode, we talked to Prof Leelo Keevallik from the University of Linköping about a piece of video data involving a syntactic-bodily unit used in a collaborative completion by a teacher and a student in a partner dance class. And finally for the third episode, we had the privilege of talking to Prof Anne Warfield Rawls, the designated editor of Garfinkel's work, about a recent anthology of papers on Black Lives Matter she put together with Waverly Duck and Kevin Whitehead.
You can listen to State of Talk via Apple Podcasts, Spotify, or here on the ISCA website.
Schegloff Audio Archive
In 2003, Emanuel Schegloff published a website that shared his published papers and, crucially, audio data clips corresponding to transcripts that had helped shape CA from its outset. This early example of open data sharing enabled EM/CA researchers who would previously have had to attend conferences or courses to simply visit the site and read along while listening in on moments of interaction that had already become canonical examples of CA's key findings.
Unfortunately, in the last few years the technology used to publish the audio/video clips became obsolete, so the clips have been online but inaccessible. So as a part of the new ISCA website, we are very pleased to be able to make the Schegloff Media Archive available once again.
You may find it useful to link to the archive or include clips in your teaching examples, but we also recommend referring to the clips while reading Schegloff's papers – it really brings them to life and gives you a strong feel for how the findings reported, often dryly, in published articles, relate to lived moments in people's everyday lives.
As we plan to remind people about this resource on our social media feeds, we would love to hear how you're using it. Email us at pubs[at]conversationanalysis.org or visit our Twitter, Instagram or Facebook and tell us what the Schegloff Media Archive means to you.
The ISCA Publications Team
Maha Al Ayyash – Jeddah University
Saul Albert – University of Loughborough
Daniela Andrade – Unisinos University, Brazil
Eniola Boluwaduro – Redeemer's University, Nigeria
Vittoria Colla – University of Bologna
Yumei Gan – University of Hong Kong
Veronica González Temer – University of Educational Sciences Chile
Gates Henderson – Victoria University of Wellington
Elliott Hoey – University of Basel
Emily Hofstetter – University of Linköping
Jack Joyce – Ulster University
Stamatina Katsiveli-Siachou – Queen Mary University of London
Holly Sansone – Queensland University of Technology
Sam Schirm – University of Waterloo
Lucas Seuren – University of Oxford
Emma Tennent – Victoria University of Wellington
Katherina Walper – Austral University of Chile