Happy New Year! And more importantly, welcome to the second year of the ISCA Newsletter. We have left a strange year behind us. With the emergence of the COVID-19 pandemic, academic life has been turned upside down: research projects have been temporarily suspended, online teaching has become the norm, most have to work from home, and ICCA 2022 had to be postponed. And while there is light at the end of the tunnel, many countries are still dealing with new and extended lockdown measures.
Despite all the hardship, there have been a few silver linings. We saw how our community came together both socially and academically. During the first lockdown, we organized a weekly virtual get-together, which especially took off in Europe – largely thanks to the DARG community. Where the Remote Data Sessions team had been running remote data sessions for several years, data sessions and lectures quickly became online events by default, making them accessible for people from all over the world. Presentations by Jeff Robinson at York and Lorenza Mondada at Loughborough attracted hundreds of EMCA people from around the world, and Zurich's Online School in Multimodal Interaction Analysis exploded to have hundreds of students. We have also started to explore online conferences, with ECCA 2020 being a major success – more on that below.
This newsletter also continues to showcase the global EMCA community. We have a new format called Intercultural Matters, in which we provide room for analyses, discussions, and reflections on doing EMCA research on non-English data. The squib in this edition draws on data in Brazilian Portuguese, and the data session report focuses on a newly established network for running data sessions in Spanish. And we are very happy to announce three new episodes for the State of Talk podcast. It's only been one year, but we think this all shows that the ISCA Newsletter is going to be a central resource and outlet for our global community.
Squib
The squib is a short paper in which the authors provide a preliminary analysis of an interesting phenomenon. The format holds in between a conference presentation and a manuscript for publication, and is therefore not peer reviewed. It provides authors an opportunity to share their analysis at a point where they are not yet ready to write up a manuscript, and want to invite comments and ideas from the community.
In this edition, Daniela Andrade presents an analysis of how a patient in a cardiac unit resists medical advice from a psychologist regarding weight loss procedures. She focuses on disaffiliation and the role of embodied practices in doing resistance. She highlights the need to explore not only verbal but also multimodal practices.
Read and comment on the full length squib: Embodying resistance and disaffiliation in healthcare interactions
Data session report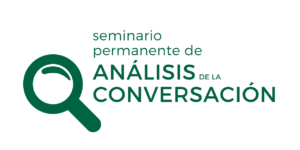 The data session report provides insights into how different groups of EM/CA scholars conduct data sessions. There are no standards for how a data session should be run. Despite their central role in EM/CA research they take place essentially in the background: we just do them. But this also means that there are different conventions, and we can learn a lot from how our fellow researchers organize their data sessions.
In this edition, Verónica González Temer and Katherina Walper Gormáz give an overview of the data sessions in Spanish organised by the newly established Seminario Permanente de Análisis de la Conversación (SPAC). They provide details about how the different types of data sessions they hold are structured and how to join them for upcoming ones.
Read their full account: SPAC Data Session Report
Podcasts: State of Talk
Since the last newsletter, we've been able to put out a great set of episodes. For State of Talk, we had the chance to conduct a data session with Mardi Kidwell (University of New Hampshire) on police-citizen encounters in traffic stops, data which has formed the basis of several papers. We also heard in an interview with Candy Goodwin (UCLA) about her early data sessions at University of Pennsylvania with Gail Jefferson, Chuck Goodwin, and Erving Goffman. And our data session, Anita Pomerantz (SUNY Albany) included some reflections on her influential career in CA and some preliminary details about her forthcoming book Asking and Telling in Conversation.

We are also delighted to have begun releasing recordings of presentations from Loughborough's Conversation Analysis Day. These have been made available through Loughborough's DARGchive, especially the work of Andrew Merrison and Jack Joyce. In this first tranche of recordings, we look back to first two years of CA Day (2009-10) to bring you talks from, among others, Alex Hepburn, Alex Kent, Nick Llewellyn, John Local and Paul Drew, Jessica Robles, and Jörg Zinken and Eva Ogiermann.

You can listen to State of Talk via Apple Podcasts, Spotify, or here on the ISCA website. The podcast is run by Saul Albert, Yumei Gan, Elliott Hoey, Jack Joyce, Holly Sansone, and Sam Schirm.
Intercultural Matters
The intercultural matters section provides insights into other-than-English data and encourages authors to discuss non-north-western culturally orientated social issues and world views and invite comments and ideas from the community. The format is that of a critical discussion of the issue being presented, supported by data.
For this fourth edition of the newsletter, Maha Alayyash explores how an oncologist and a chaperone share epistemic access regarding the patient's illness without involving the co-present patient in Saudi Arabian medical interactions.
Read her full analysis: "The lung, from the disease you know", Epistemic Asymmetry from a Chemotherapy Clinic in Saudi Arabia: A Case Study
ECCA 2020 Conference Report
Last year was supposed to see the first edition of the European Conference of Conversation Analysis in The Netherland, an event designed to provide an accessible and affordable environment for early- and mid-career researchers to get together, meet old and new friends, and share emerging work and ideas. The COVID-19 pandemic forced the organizers to change plans and hold the event online instead, using a range of virtual tools.
Despite having to change plans on short notice, the conference was a great success. There were 2 great keynotes by Melisa Stevanovic and Saul Albert, over 50 presentations, posters, and data sessions, and over 200 researchers from all over the world. Virtual conferences seem to have a future. The organizing committee discusses the lessons they learned from the event, in the hope of helping future virtual conferences be even more successful.
Read the full conference report: Evaluating a conference of firsts: ECCA 2020
The ISCA Publications Team
Maha Al Ayyash – Jeddah University
Saul Albert – University of Loughborough
Daniela Andrade – Unisinos University, Brazil
Eniola Boluwaduro – Redeemer's University, Nigeria
Vittoria Colla – University of Bologna
Yumei Gan – The Chinese University of Hong Kong
Veronica González Temer – University of Educational Sciences Chile
Elle Henderson – Victoria University of Wellington
Elliott Hoey – University of Basel
Emily Hofstetter – University of Linköping
Jack Joyce – Ulster University
Stamatina Katsiveli-Siachou – Queen Mary University of London
Holly Sansone – Queensland University of Technology
Sam Schirm – University of Waterloo
Lucas Seuren – University of Oxford
Emma Tennent – Victoria University of Wellington
Katherina Walper – Austral University of Chile