By Marije van Braak on behalf of the ECCA 2020 organizing committee
There is always a first time for everything – and, well, ECCA 2020 surely was a conference of first times in many respects. A first European Conference of Conversation Analysis, a first junior CA-conference, and one of the first online EMCA-conferences. It was also a conference of firsts in terms of new connections, sharing of initial analyses, prerecorded presentations, password protected data, game time, asynchronized birthday singing… and much more.
After the event, we conducted a small survey to find out how everybody experienced the conference and how future events could improve upon our format. Here we provide a short reflection focusing on the most salient feedback. A full report of our survey is available on request for future online EMCA conference organizers, such that these can be tailored to EMCA-specific online needs.
So what was ECCA again?
The first edition of the European Conference of Conversation Analysis was supposed to be an informal conference to be held on June 29-30, 2020 at Radboud University in Nijmegen, The Netherlands. Our goal was to create an accessible, interactive event where European early- and mid-career researchers in the fields of Conversation Analysis and Ethnomethodology could come together to meet up and share work-in-progress.
However, things turned out differently. With COVID-19 spreading around the world, we decided to move the conference online. This made it a more challenging event for participants in some respects (digital set up, pre-recording of presentations, pre-watching of presentations and posters via Dropbox), but it also made the conference more accessible, cheaper, and global.
The program included three formats: (i) presentations, which were pre-recorded by the speakers and discussed with the audience in half hour slots, (ii) data sessions, which were hour-length slots led by the data presenters, and (iii) posters, which could be commented on asynchronously in the Dropbox. We spread the program across parallel sessions in four days: two morning and two afternoon sessions, so that people would not have to spend entire days online. We also organized socials and networking events, including a board game night, chat roulette, and a Meet-the-Prof where attendees could discuss their work with senior researchers in small groups.
"Discord is your place to talk" – the platform
ECCA 2020 took place on Discord, an environment originally designed for gamers to chat while playing games and connect with their communities. (A big thank you to Magnus Hamann for setting up the platform and helping attendants navigate it without problems!). Discord lets users set up different "rooms" and "channels", making it easy to organize parallel sessions or just places where you can have an informal chat over a coffee. We offered two introductory days for participants to log in and try out the platform. Overwhelmingly, people liked the platform. They found it user friendly, although some attendees had issues logging in and participating in the discussions and presentations due to microphone and speaker problems, particularly when using Macs.
Some of the technological affordances of Discord turned out to be less suitable for a conference. One feature that many participants did not like was that there were different channels for audiovisual and text discussion. This meant switching back and forth between the presentations and their discussion. Discord also restricts the number of people who can join a video call at 25, meaning that keynote discussions, in which up to 100 attendees were present, were restricted to audio only. While we thought it would be too "heavy" for everyone to have their camera on at the same time anyway, partially because of broadband concerns, it was a shame that we could not even see the presenters, moderators, and attendees who asked questions. At least, our names were fleeting around throughout the entire conference – a big plus, according to some participants.
Discord promises to "create a home for your communities and friends, where you can stay close and have fun over text, voice, and video". Most of us certainly had a lot of fun over many different types of data and with our different fellow EMCA researchers; so that certainly worked. Attendees also were spread across distances that sometimes spanned half the globe, and felt connected to the EMCA-community by participating in the activities via the platform.
"I have one more question if no one else wants to take the floor." – discussion
Participants had mixed views on the discussions. Some went very well and were enlightening to the presenter as well as the other participants. Other discussions did not go that smoothly or were even slightly uncomfortable because there were too few questions – as is wont to happen at any conference. Sometimes this was because there were only a few attendees at a presentation, but technical issues also forced people to type their question ("OK, I'll type quickly!"). One suggestion was to shorten the discussion sections (which were now set at half an hour for every presentation and one hour for the keynote presentations). Asking presenters to summarize their presentation before opening up the discussion could also be helpful in generating questions and comments.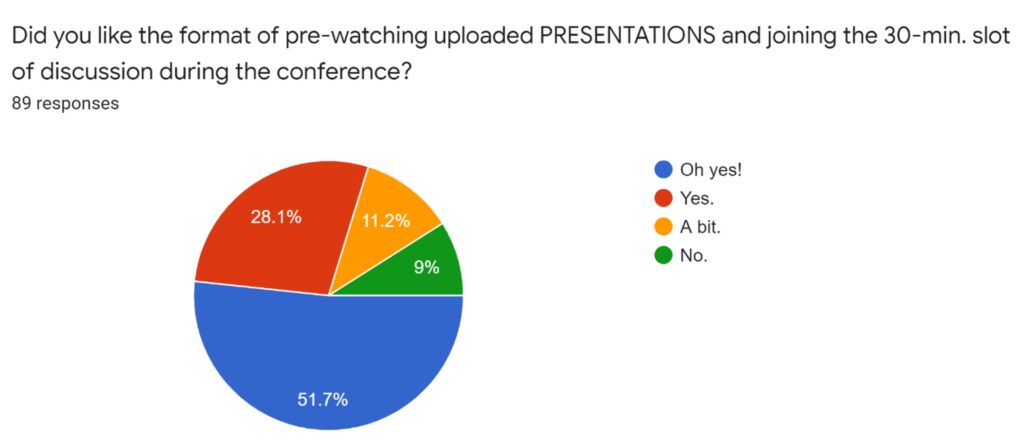 Several participants commented on the type of questions that were asked during discussion time. Questions were often very in-depth, and while that provided for detailed discussions of the material and the analysis, it meant that some participants were hesitant to ask "mere" exploratory or straightforward questions. Other attendees had the opposite view, and suggested that the level of discussions could have been raised, by having more experienced researchers join. Although we organized ECCA for early career researchers, inviting senior researchers from the Meet-the-Prof to also join one or two discussions each could have been beneficial. Overall, the challenge of facilitating discussions for this particular type of conference is to strike a balance between senior input and early career 'vibe' (which would also go for offline versions of ECCA).
"Can I make one tiny observation again?" – data sessions
The data sessions were the format where opinions varied most. Due to ethical and privacy concerns, many presenters could not share their data beforehand. They therefore either had to stream video – which did not always work well, share their data last-minute over Dropbox using password protection, and/or use transcripts only. Presenters could organize the sessions in the way they wanted, which resulted in very different sessions throughout the conference.
Generally, participants suggested that data sessions need structure via a moderator or even that there should be a pre-set format to make the sessions more consistent, guide first time data session presenters, and avoid some common pitfalls. The guidelines on the ISCA website could prove helpful. Based on our experiences, data fragments should not be longer than one minute, presenters need to provide some context, mark the points or issues that they would like to discuss, and maybe use subtitles if their data are not in English. Moderators can also take a more active role to smooth the process and open up discussions.
We received two other suggestions to improve data sessions. First, to consider organizing fully written data sessions. The digital format was quite distracting to some, and in some cases did not really offer the opportunities for observation sharing and data discussion that participants would have hoped for. Second, it could be helpful to watch data prior to the actual online data session. However, this would be problematic given that data security is an urgent concern.
"Am I coming through?" "We can hear you!" – participation
Engagement is a challenging issue at an online conference, as people seem to be more easily distracted when they are sitting behind their computer. One recurrent comment we received was that attendees could focus better on the presentations if they could see the presenter as well. When using pre-recorded talks, it would therefore be helpful if presenters have instructions on how they can include a recording of themselves in addition to the slides. Some people also remarked that the timing of the social events, which now all took place in the European evening, was unfortunate given their schedule or their time zone. A possible solution would be to schedule social events throughout the day, for example also during lunch.
Finally, some attendees would have liked to have smaller events of different sorts. A variety of social and other events would better serve everyone's needs, although that would entail a lot of organizational work. For each of these events, it should be clear what the event entails, how it is structured, how many participants will be present. For example, for the Meet-the-Prof, we had not informed participants that they would meet the senior researcher in groups, as opposed to one-to-one.
"If you'd like to continue discussing, feel free to stay…" – any other business
We received mixed comments about the format of pre-recorded presentations with live online discussions. For some people, pre-recording and pre-watching was a nightmare, while others found it convenient. Having the videos available several weeks prior to the conference start would allow participants to schedule the pre-watching flexibly, but some found it an extra burden to watch presentations in advance to be able to participate in the discussions. Making presentations available after the conference ends is also helpful.
Online provides new affordances for poster presenters. Several poster presenters attempted to make use of the online facilities, both in terms of answering questions and in designing the poster. This resulted in some creative and interactive discussions. We would recommend future online conference organizers to stimulate their participants to make full use of the digital options that would not have been available if the conference would have been in-person.
So what do we suggest?
Finally, we have three general suggestions. First, online conferences need a permanent technical support site or online place to go. This will make sure participants aren't distracted by the technical issues of others during activities. Second, a low registration fee keeps the conference accessible for everyone. Finally, the diversity of contributions and contributors (beyond Europe) was an advantage of the online format: it connected junior scholars from all around the world. Facilitating such diversity was valued a lot. While in-person conferences have benefits that virtual conferences do not, such as meeting friends and colleagues more easily during breaks or over dinner, we do feel that the virtual conference allows EMCA researchers to connect in ways that go beyond offline possibilities.
What's next?
We would encourage others to try out other platforms and approaches to online conferences and write up their experiences, so that these could be available to the community. Considering the current international situation, online conferences may still be the norm even after 2021. As it stands, there will be no ECCA 2021, but we think it would be great to have a recurring virtual EMCA conference. It would not have to be European of course: the biggest benefits of the first ECCA were that it was accessible for researchers from around the world and that it provided room for early career researchers. If you are interested in organizing an online EMCA conference, feel free to contact us by email or Twitter. We are looking forward to continued online exchanges that serve and connect the field of EMCA!
The ECCA 2020 Organizing Committee
Emily Hofstetter
Lotte van Burgsteden
Lucas Seuren
Marije van Braak
Natalie Flint
Sophia Fiedler