The ISCA members forum newsletter only comes around once every few months so we thought we would send updates when we have news to share that is time-sensitive, and we are especially pleased to be able to send out news of ICCA 2023!
If you would like to promote an event, talk, call for papers etc. please email pubs@conversationanalysis.org (copying in announce@emcawiki.net).
Save the Dates: ICCA 2023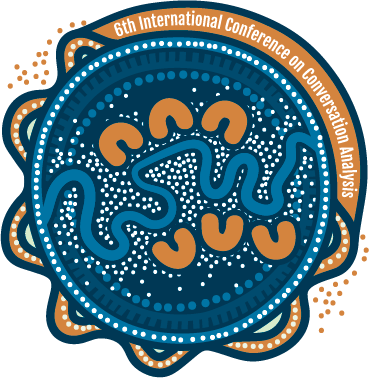 The International Conference on Conversation Analysis (2023) will take place at the University of Queensland in Brisbane on the 26 June – 2 July 2023. We have a holding page online at https://icca2023.org/ – please share it far and wide – a full conference page will be up soon.
In the meantime, we have a few key dates to help you with planning your contributions to the conference:
The call for panels will open in January 2022 (Notification on 18th March 2022).
The call for abstracts will open on 28 March 2022 (Notification in August 2022).
We also have an exciting list of confirmed plenary speakers:
More details about their proposed talks and other key dates/conference information is coming soon!
The ICCA 2023 Team.
The Digital Meeting in Conversation Analysis (DMCA) will take place from October 31st until November 4th 2022. This online event will provide an accessible environment for the global EMCA community to present their research, build their academic network, and develop their skills in EMCA methods. There will panels on publishing, grant writing, and careers in academia, as well as workshops on a range of topics and, of course, presentations from researchers in all areas of the field. DMCA will also involve a range of online social event formats so that everyone can catch up with colleagues and make new connections.
The conference will consist of two streams taking place in tandem: one for the EMCA community in Oceania and East Asia, and one for the community in the Americas, Europe, and Africa.
More information such as the leaders and content of the workshops, plenaries, and a call for papers will be shared in January 2022.
To get in touch, email the team at dmca@conversationanalysis.org
http://dmca.conversationanalysis.org
Summer Institute for Interactional Linguistics
From July 18 to July 23, 2022, the Summer Institute for Interactional Linguistics will be hosted at the Leibniz-Institute for the German Language (Mannheim, Germany). We offer an in-depth, hands-on study and research experience over six days guided by internationally renowned facilitators. The Summer School is aimed at PhD-students, post-docs, and other researchers with prior knowledge of Conversation Analysis.
For further information and modalities of participation see:
https://cloud.ids-mannheim.de/s/7n9ekfjAraXDgFq
Organizers: Arnulf Deppermann and Alexandra Gubina, Institute for the German Language, Mannheim (Germany)
CA in Brazil and talk-in-interaction in Portuguese
We are thrilled to announce the release of the first special issue dedicated to CA research with data in Portuguese. The special issue, published in Calidoscópio, celebrates 20 years of CA as a research branch in the lusophone world, emphasizing the research work developed mainly in Brazil. Ana Cristina Ostermann (Unisinos, Brazil) and Pedro de Moraes Garcez (UFRGS, Brazil), two pioneers of CA in the Brazilian landscape, nicely present an overview of how the area evolved over these past 20 years and provide a fair portrait of the current state of Portuguese-based CA studies. The interactional contexts contemplated in the issue vary, ranging from health institutions to the streets of Rio de Janeiro, and from scholars based in Brazil, Portugal, Finland, and Switzerland.
This is most certainly a very welcome and timely contribution to the expansion of CA studies worldwide.
The Centre for Advanced Studies in Language & Communication (CASLC)
is delighted to present a talk by…
CASLC talk Feb 2022: Professor Beatrice Szczepek Reed
The Centre for Advanced Studies in Language & Communication (CASLC) at the University of York is delighted to present a talk by Professor Beatrice Szczepek Reed (King's College London)
Title: The embodied design of instructions and their uptake: depictions and demonstrations in voice lessons
Date: Thursday 3rd February 2022
Time: 2.30pm-4.00pm (UK time)
Place: Zoom.  You can register for the talk by clicking on the following link: https://forms.gle/S7bubDXBU9K29hRU6 If you're unable to use the online registration form, please contact: merran.toerien@york.ac.uk.